Managed Solid Waste Rate (MSW)
Glass Bottles or Jars, Food Cans or Packaging (Human or Pet), Papers, Files, Folders, Moving Boxes, Newspapers, Magazines, Plastics Containers, Cardboard Boxes from Food or Furniture, Curtains, Clothing, Coats, Shoes, Hats, Couches, Love Seats, Chairs, Lamps, Rugs, Mattresses, Box Springs, Blankets, Sheets, Pillows, Pillow Cases, Kitchen or Bathroom Cleaners or Supplies, Automotive Parts or Supplies.
Construction-Demolition Rate (CD)
Brick, Block, Stone, Framing Lumber or Metal, Sheeting Wood or Metal, Siding Wood, Metal or Vinyl, Plexiglass, Windows, Doors, Insulation Fiberglass or Foam, Gutters, Down Spouts, Drip Edge, Roofing Slate, Metal Or Shingles, Chimneys, Antenna Pipes. Flooring, Sub-Flooring, Laments, Tile, Carpeting, Lathe, Plaster, Drywall, Moldings, Kitchen Cabinets, Counter Tops, Sinks, Tubs, Toilets, Vanities, PVC, Copper, Galvanized Steel or Iron Plumbing, Electrical Services, Furnaces and Water Heaters. Also Includes Rail Road Ties and Landscaping Timbers.
Clean Hard Fill – Separated (CF)
Includes: Brick, Block, Stone, Pavers, Concrete, Dirt, Gravel, Slag, Sand, Black Top or Asphalt Concrete.
Compost or Green Rate (Eco Friendly)
Includes: Grass, Leaves, Brush, Tree Limbs, Old Mulch, Removed Green Landscaping.
Salvage and Scrap Rate (SR)
Washers, Dryers, Stoves, Refrigerators, Freezers, Furnaces, Water Heaters, Steel Pipes, Angle Iron, Lawn Mowers, Rototillers, Cars And Car Parts, Trucks, Tractors and Farm Equipment
Hazardous Waste Rate – (Separated)
Car, Truck, Tractor, Motor Cycle or Equipment Tires, Batteries, Paint Cans, Oils, Thinners, Medical Waste, Asbestos, #30 or #55 Gallon Drums, Propane, Oxygen or Acetylene Tanks, Liquid or Powder Chemicals, Acids.
ACCEPTABLE – CD RATE ONLY
Roofing Materials

Drywall, wall coverings, Plaster, Non- Asbestos Insulation, Wall to wall Carpeting

Brick, Block, Concrete, Asphalt, Asphaltic Substances and other Masonry Materials, Framing and finishing lumber

Weathered railroad tiles and Utility poles

Stone, Glass

Doors, HVAC Unit Fixed to Building

Structural Steel and Iron

MOST Siding Materials including Aluminum and Vinyl

Electric Wiring and Components containing NO Hazardous fluids or Refrigerants

Plumbing and Plumbing Fixtures

Any packaging materials associated with items such as: Shingles, roofing Cement, Plaster and Insulation.
ACCEPTABLE – MSW RATE ONLY
Yard Waste

Clothing, Shoes or Toys

Appliances that are not permanent fixtures: Mattresses, Furniture or Packing materials associated with these items

Auto Parts

Books, Magazines, papers/Office Material

Bottles, Cans, Papers, Plastics, Cardboards, Food Wrappers
REGULATED HAZARDOUS WASTE RATE ONLY
Tires of Any Kind

Propane Tanks

Batteries of ANY Kind

Liquids, Oils, Thinners, Acids, Paint, Cleaning Products

Municipal Sludge
Infectious waste, Asbestos, Industrial or Hazardous Wastes of ANY kind, NO Fly Ash

Fluorescnet Light Bulbs, Including CFLs
SEPARATED CLEAN FILL
RATE ONLY
Brick, Block Stone, Concrete, Blacktop, and non contaminated dirt.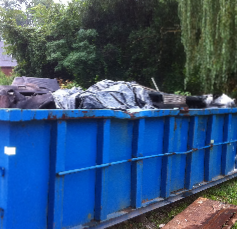 Ask about our 5% discount for veterans. Emergency service is available.
Call Now for Your FREE Estimate.